Rebecca Liggero
Rebecca Liggero loves meeting new people and traveling – perfect qualities for someone who has won friends and influenced people in the worldwide online gaming community. After graduating from Bates College with a degree in psychology, Rebecca spent four years in Washington, DC, working in relationship management, dreaming all the while about someday making it big in online gaming. After turning down an opportunity to live in New Zealand, she moved back to Boston and signed on as Senior Account Manager for Casino City – the beginning of a dream come true! Rebecca's work on behalf of Casino City (and later for the GPWA as well) took her to trade shows and conferences everywhere – Amsterdam, Barcelona, Costa Rica, Montreal, London, Las Vegas, Macau and many other ports of call – and along the way she began chronicling her incredible around-the-clock adventures in a wildly entertaining and industry-savvy weekly column that quickly became – and still remains – must reading for everyone who is anyone in online gaming. Following almost three years with the Casino City team, Rebecca spent a few months at Everest Affiliates where she was the Brand Manager of the affiliate program. While working on "the other side," she realized that she truly missed her weekly column and the affiliate side of the business and decided to return to the Casino City family. One and a half years later, Rebecca resigned from Casino City and joined industry icon Calvin Ayre to serve as the Bodog Global Brand Ambassador and the head on-site reporter for the online gambling industry tablog, CalvinAyre.com. In her new capacity, Rebecca continues to travel the world, and when asked where she is based, her response is usually "on an airplane." Contact Rebecca at
rebecca@liggero.net
. Be careful, though – she might quote you.
More articles by Rebecca Liggero
Adventures in Scandinavia Part 2: Stockholm
10 September 2008
By 
Rebecca Liggero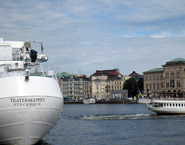 Stockholm has officially become my favorite city in the world. I'm sorry Tel Aviv, you have just been bumped to number two. Forget marrying a Jew, now I want to marry a Christian! All jokes aside, Stockholm really is the most beautiful city I have ever seen, along with some of the most beautiful people I have ever seen, inside and out. I am willing to forgive a $50 entree, a $20 deli sandwich, a $17 dollar cocktail, and a $6 bottle of water for this extreme beauty and pleasure. I do realize my experiences in Stockholm are somewhat skewed as I spent each day and night with my good Swedish friends in their natural environments, but the overall vibe in this city is a great one and I absolutely cannot wait to go back. Hang on Neda, I'm coming for you! In the meantime, I hope you enjoy my highlights below, and please pardon the extreme emphasis placed on those who made this experience beyond enjoyable for me- it was unavoidable.
Affiliate Lounge's Tomas Eliasson, the King of Såja
As a general rule, when you really get to know someone, more and more of their true nature is revealed. Often times, along with their true nature comes the flaws, the bad moods, occasional lies, a selfish side, and other things that were well hidden in the beginning. On the other hand, there are a handful of people like Tomas, a person who, over time, has done nothing but prove he is one of the greatest people on earth. After the time we spent together in Sweden it is official- Tomas is as kind as they come. I cannot thank him enough for one hell of a week in Stockholm with his friends, far too much alcohol, some late night pokah, and in general, some of the most fun I have ever had in my life.
South vs. East, the never ending rivalry
Something I discovered during my time in Stockholm is that there is a distinct divide between the "South" and "East" portions of the city. As a born and bred Bostonian, I naturally gravitated towards South Stockholm, a much more "fashionably relaxed" and diverse part of town. As for the East side, I will start off by saying it is not so "fashionably relaxed". This posh part of town calls for extremely tight pants, tight designer shirts with collars, scarves strategically placed around the neck, slicked back hair, thick black rimmed glasses, pointy leather shoes, and constant glances in the mirror. Sound familiar? It should! There are several "East siders" in the online gaming industry, but I'll leave it to you to figure out who they are.
God Bless Karlstad (and the UK), breeding ground for the best people on earth
I have known for several years, and have obviously made it very clear to you, that I think Tomas is one of the greatest people in the world. What I just learned is that his friends from childhood are fabulous too! Throughout my week in Stockholm I spent time with Joakim, Björn, Henrik and Jenny, four sweethearts from Karlstad, Sweden, my new favorite breeding ground. Next on the list is the UK, home to many of my beloved, and also home to William, Tomas's friend who constantly entertained me with his extensive British slang and "dot com" jokes. F&ckin' hell, he is funny.
Hot dogs and a Nintendo Wii are necessities at a Swedish Birthday party
When traveling, I like to spend my time with the locals doing what they normally do. What can be more authentic than attending a house party in celebration of a 29th birthday? Nothing! Apart from the fact that the crowd promptly switched from speaking Swedish to English upon my arrival, I felt as if these were my friends celebrating in my city. We drank champagne, we drank beer, we polished off bottles of wine, we dined on hotdogs, and we played competitive games of tennis on the Nintendo Wii. We even hit Café Opera later in the evening, a posh club on the East side with a $50 cover and $25 drinks. Ouch, but trust me, the pretty people hanging out at this place more than justified the cost.
Joakim the mystery Swede strikes again!
Who remembers when I first met Joakim during my
trip to London last November
? Same weekend when lost my camera and wallet thanks to the excessive drinking habits of Caselli? Ladies, I know YOU do. This charming, yet kind and caring ladies man had only heard about the online gaming world through the eyes of Tomas before he spent a night out in London with our crazy crowd. Joakim passed the test there, and he certainly passed the test here. This nice looking Swede is forever part of our world as far as I'm concerned, and after his hospitality during my time in Sweden, he is forever a friend too. God bless Karlstad!!!
A plethora of outdoor seating...with heat lamps and blankets
One of the many things I love about Europe is all the outdoor seating at cafes, bars, and restaurants. Boston has about...three locations where you can sit outside? Maybe four? Regardless, I was surprised to see so much outdoor seating in Stockholm, a city that is certainly not known for its warm and sunny weather. I quickly learned that the Swedes have a nice trick, however- heat lamps and blankets for everyone upon arrival. Brilliant, right? Now why can't the Americans come up with that?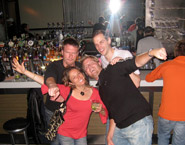 The magical transition from Affiliate Manager to good friend
Something very special about the Affiliate/Affiliate Manager relationship in the online gaming world is that many of us become great friends for life. In my opinion, reaching this "real" level of friendship can only be achieved when visiting someone outside of a conference and in their own element. After my time in Stockholm I came back with a new found respect and love for Tomas from
Affiliate Lounge
, Henrik H. and Ahmet from
Carlos Poker
and
Maria Bingo
, and Henrik G. from
Gnuf
. These four fabulous Affiliate Managers went over and above the call of duty when I was in town and I will never forget it. I will also never forget that Tuesday night when we stayed out boozing until 3am by accident, posing for pics, dancing, and generally making a scene at the otherwise tame bar. That was really great guys, thanks.