A photo scrapbook from the GPWA Conference in Las Vegas
21 January 2009
LAS VEGAS - The GPWA held a conference in Las Vegas last week overlooking the Strip on the 103rd floor of the Stratosphere Tower & Casino. The conference, which included five sessions, was followed by a cocktail party.

Click here for a complete recap of day, but for photos from the entire day and evening, take a look below to see what you missed.
GPWA Executive Director Michael Corfman makes his opening remarks.
Las Vegas-based attorney Clarke Walton delivers his talk about the
legal pitfalls gambling affiliates should be aware of.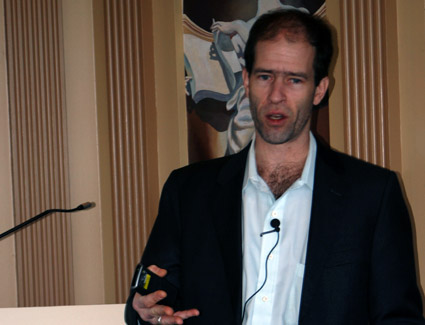 James Traynor, a founding partner of Syntryx Executive Solutions,
spoke about the tools his company uses to evaluate affiliate Web sites.

Attendees to the conference give the speaker their undivided
attention, despite an incredible view of Las Vegas that is
pictured behind them.

A lunch-time view of Las Vegas from the
Stratosphere Observation Tower.

Victor Pitts, the VP of Sales and Client Services for Moniker,
talked about how to attract more quality traffic.

The APCW's J. Todd and Anthony finished off the day's
sessions with a chat about how to integrate video into a Web site.

After the conference, attendees were welcomed to the Sunrise
Room where they enjoyed cocktails and hors d'oeuvres.

Michael Corfman proudly displays the newest issue
of the GPWA Times magazine.

Party attendees share a laugh over cocktails and hors d'oeuvres.

Erin from BetUS poses with another cocktail party attendee.

It appears the long day of sessions made these
two attendees both thirsty and hungry.

GPWA Program Manager Steven Corfman stands in between a couple
of taller attendees at the party.

GPWA member "matted", GPWA Executive Director Michael Corfman,
Erin from BetUS and Josh Gray from PerfSpot.

(All photos by Gary Trask)